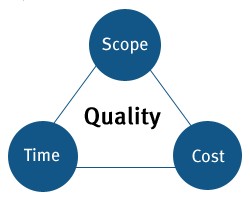 Project Management Services
With over 30 years of project management experience from when we took the road of being a project manager by accident to being a certified PMP with experience in the use of the PMI book of knowledge to manage projects in terms of:
Scope
Time and Cost
Risk
Quality
Communications
Integration
Project Management Institute... making project management indispensable for business results.
Did you know:
Project managers must focus on three dimensions of project success. Simply put, project success means completing all project deliverables on time, within budget, and to a level of quality that is acceptable to sponsors and stakeholders
The single most important activity that project managers engage in is planning -- detailed, systematic, team-involved plans are the only foundation for project success. And when real-world events conspire to change the plan, project managers must make a new one to reflect the changes. So planning and re-planning must be a way of life for project managers.
Project success is correlated with thorough analyses of the need for project deliverables. Research has shown that when a project results in deliverables that are designed to meet a thoroughly documented need, then there is a greater likelihood of project success.
Project sponsors and stakeholders must be active participants, not passive customers. Most project sponsors and stakeholders rightfully demand the authority to approve project deliverables, either wholly or in part. Along with this authority comes the responsibility to be an active participant in the early stages of the project, to complete reviews of interim deliverables in a timely fashion, and to help expedite the project manager's access to SMEs, members of the target audience, and essential documentation.
Here are a few of the companies, organizations which I have worked with, or I'm a member of...